How to choose irrigation controller / timer?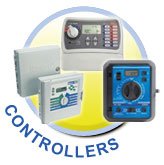 The only important decisions you need to make when selecting a irrigation controller / timer are as follows:
Indoor or outdoor, controller mounting location.
Number of stations or zones – must be at least as many zones or areas your sprinkler system is broken up into.
Number of programs (1, 2, 3, or 4) – should have at least 2 or more programs to give you the watering flexibility you want or need. The programs on a controller are very different from the number of stations on a controller. This is explained below.
IMPORTANT: The rest of the features you can choose from on a controller are just for added benefits or increased flexibility.
Indoor vs. Outdoor models
Sprinkler system controllers come in a wide range of makes and models. Choose lawn sprinkler system timers depending on the size of the sprinkler system and the user's needs. Lawn sprinkler system timers come in two different types: indoor models and outdoor models. Indoor sprinkler system timers need to be sheltered from weather, and can be conveniently plugged directly into a 110-volt outlet. This is because they come with an external transformer as part of the plug-in cord that converts the 110-volts to 18 volts. Typical locations for mounting indoor timers are in the garage, building, covered patio, shed, pump house, closet, etc. Outdoor lawn sprinkler system timers are convenient, weather resistant, durable, and typically need to be hard wired for power instead of plugged into a 110-volt outlet. This is because the transformer is located inside the protective weather resistant cabinet and it is assumed that the electrical connection will need to be weather resistant also.
Outdoor controllers can be used as indoor controllers just by adding a pig tail (3 prong plug and power cord) to the power wires of the timer. People do this all the time to be able to get all the benefits of an outdoor timer with a weather resistant cabinet and typically all kinds of added features. An example of this is the Hunter ICC model controller which is one of Hunter's best controllers. It has so many nice features that people will just add a pig-tail and make it an indoor timer.
Controller Stations
Typically, residential systems use irrigation controllers with 2 to 9 stations, while systems for commercial or public properties can have 32 - 48 stations or more. Each station regulates one zone or area of the lawn sprinkler system. When selecting irrigation controllers, know how many stations the system needs. Choose a sprinkler timer with extra stations, in case of later expansion.
Controller Programs
The number of programs a controller or timer typically has can range from 1 up to as many as 4. They are usually labeled as Program A, B, C, and D. Some controllers only have 1 program while most have at least 2 or more. A program is a set of watering instructions for stations that will run on the same days. When you set up Program A on the controller, you are setting the days you want to water, the time of day you want to start watering, and how long you want to water. If you have a controller with two programs, the lawn areas can be set up to be watered every day on one program and the flowerbeds and shrubs every other day on the second program. When a controller starts a program, it will go through the entire program before stopping or repeating the program.
Related Topics: