What is irrigation controller?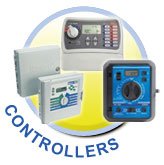 Irrigation controllers, also known as irrigation timers or lawn sprinkler system timers, are the nerve centers or brains of the sprinkler system. Sprinkler system timers send electric signals to the irrigation valves. The valves regulate the flow of water to the sprinkler system.
Lawn sprinkler system timers are the devices that allow you to set a watering schedule to meet your needs. You can set the days you want to water, the time of day you want the sprinklers to come on, and how long you want them to apply water.
Sprinkler system controllers may be mechanical, partly automatic, or fully automatic. Although lawn sprinkler system timers are largely maintenance-free, the home or property owner might wish to upgrade and replace irrigation controllers or install irrigation controller parts or extra features. Sprinkler timer installation or replacement is very straightforward and easy and can be done by either the homeowner or by an irrigation professional.